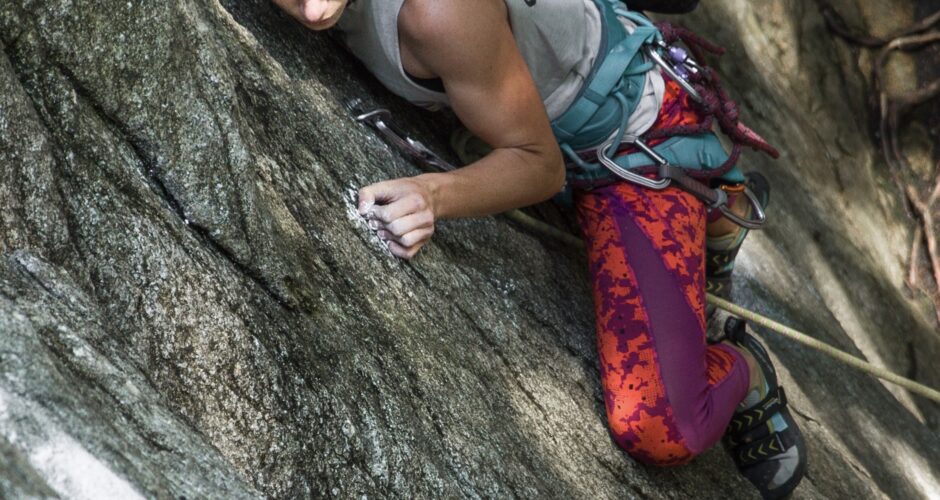 Climbing training & nutrition to improve tendon health
September 1, 2020 by Livwell Squamish
A multidisciplinary approach | Your Chiropractor Dr. Valerie Brabant, DC & Naturopatic Physician Dr. Nadine Crowe, ND
Tendons injuries are incredibly common, and the recovery time can be long and arduous. Prevention is key when it comes to supporting tendon health and to maintain finger strength and healthy tendons is crucial for any climber hoping to climb for many years to come.
Firstly, finger strength needs to be built up gradually (over months & years!). Each time the tendons are loaded with a mechanical stress, collagen fibers accumulate adding strength to the tissue. Over time, the repetitive stress of loading and rest improves the integrity of the tendon by improving collagen cell alignment and strength. After a big climbing session, it can take 48-72hrs for our systems to reach homeostasis which is when our body has the capacity to utilize the healing process again.
Secondly, it is important to consider than tendons are poorly vascularized structures (meaning that they have poor blood flow). Without being able to rely on blood to transport nutrients to the tissue, tendons rely on surrounding synovial fluid for nutrients. Thus, both providing the adequate nutrients and doing exercises that promote the movement of synovial fluid to tendon sheath, fascia, and ligament pulley is crucial for tendon adaptation and healing. This is of particular importance on rest days — A good rest day will include a light/low loading on the tendon to promote help lubrication and nourish to the tendon.

Thirdly, nutrition can play a role in supporting tendon health. The most important nutritional factor in collagen synthesis and repair are adequate caloric and protein intake. Furthermore, eating phytonutrient-rich foods provides building blocks for synthesizing collagen, elastin and proteoglycans that make up our connective tissue.
| | |
| --- | --- |
| | Key nutrients for supporting tendon health |
| Vitamin C | Bell peppers, kale, turnip greens, kiwi, broccoli, berries, oranges, grapefruit |
| Manganese | Clams, hazelnuts, pecans, walnuts, pumpkin seeds, chia seeds, flaxseeds, tofu, tempeh, lima beans, spinach, pineapple |
| Vitamin B6 | Chickpeas, salmon, chicken, turkey, potatoes, sunflower seeds, spinach, bananas |
| Vitamin B12 | Eggs, clams, trout, salmon, beef, cricket powder |
| Magnesium | Spinach, almonds, peanuts, cashews, soymilk, black beans, avocado |
| Zinc | Oysters, beef, beans, chicken, cashews, chickpeas |
Lastly, supplementation can play a role in providing specific building blocks for tendon health. The nutritional science continues to evolve, however, there is promising research that hydrolyzed type I collagen and glycine supplementation may improve tendon healing and injury prevention 1, 2. Although it is not recommended to replace your protein intake with a collagen supplement as it lacks sufficient quantities of essential amino acids for protein synthesis, it could be valuable for increasing circulating collagen to improve healing and tendon strength.
Overloading, chronic injuries and unbalanced training can lead to weaker connective tissue overtime and poor tendon healing which is guaranteed to keep you off the wall for longer. Taking a preventative approach to your tendon health is the best approach to building strength and adaptation in your body

Summary of training and nutrition tips for healthy tendons:
Alternate big climbing sessions and easy/flowing climbing sessions to help your tendons to adapt.
Do a proper warm up, including finger flossing, to help to bring fluid and nutrients to your tendons.
On rest of climbing day, doing low loading (ex. Extensors activation with an elastic, light finger board training, eccentric and isometric exercises for flexors digitorums…) helps to bring lubrication to the tendon and to activate the collagen production.
Eat a phytonutrient dense diet and increase caloric and protein intake post hard workouts
Consider supplementation which key nutrients that are lacking in your diet
A good warm-up exercise: Finger flossing 30 repetitions during your warm-up
References
Fusini F, Bisicchia S, Bottegoni C, Gigante A, Zanchini F, Busilacchi A. Nutraceutical supplement in the management of tendinopathies: a systematic review. Muscles Ligaments Tendons J. 2016;6(1):48-57. Published 2016 May 19. doi:10.11138/mltj/2016.6.1.048
Shaw G, Lee-Barthel A, Ross ML, Wang B, Baar K. Vitamin C-enriched gelatin supplementation before intermittent activity augments collagen synthesis. Am J Clin Nutr. 2017;105(1):136-143. doi:10.3945/ajcn.116.138594